The SIGNUM ring code inspection is a high-resolution colour inspection system for inspecting ring codes on ampoules and vials. In this way, the producer can exclude the possibility of under-mixing or the distribution of defective products.
The system can be used for the inspection of single ampoules as well as for the inspection of several different products in blisters or trays.
■

Inspection Criteria and Objects
Inspection objects:
Inspection of ampoules and vials
Multiple inspection in blister or tray
Individual inspection on labelling machines
Examination criteria:
Ampoules: Number of colour rings, ring colours, sequence of rings, ring widths, ring distances, interruptions and length of the entire colour ring code.
Vials: presence and colour of the cap
Parallel to this, the presence and colour of the label in the same inspection step.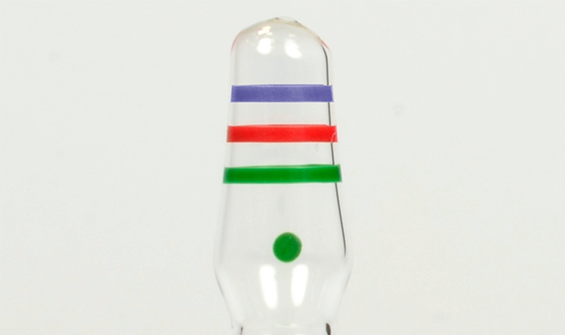 ■

Advantages of scanware Ring Code Inspection
The system offers true colour detection for optimal results. Thanks to the electronically controllable W-LED illumination, the illumination conditions can be reproduced. Two lighting levels can be evaluated in immediate succession.
Inspection of colour code and label in the same step for up to four different product types per pack is possible. 9,600 product units per minute can be inspected at up to 80 product units per pack.
Would you like to learn more about scanware's solutions?
Then please use our contact form. We will get back to you as soon as possible.
■

Software Facts of the Ring Code Inspection
The tech-in is menu-guided and thus convenient to use. The test windows for the individual characteristics can be freely defined. The recognition accuracy can be inspected by means of test run and format test functions. The skewers of the ampoules are taught. The contrast can be optimised by using colour discs.
For the inspection of labels, the illumination setting can be set independently of that of the rings.
The evaluation of vials and ampoules in the same tray is possible. The software also compensates for parallax errors caused by the curvature of the glass cylinders.
Users can look forward to outstanding software features such as:
Special algorithm for ring sequence detection
Partial teach-in runs for ring colours and sizes
Comprehensive audit trail
Easy-to-understand menu-guided operation
Alternative inspection systems
For the inspection of all parenterals, including syringes, cartridges and of course ampoules and vials, the PATERA packaging inspection system can be used.
■

Technical Data - Hardware
Evaluation unit
42 HP, 3.5 RU
scanware-developed frame grabber for matrix and line scan cameras black and white and colour 
Camera
1CMOS or 3CMOS
Camera Link interface for low-interference data exchange of large amounts of data and thus longer cable lengths than USB and FireWire
Evaluation speed: up to 9,600 product units/minute
Camera resolution: 1,024 x 768 to 4,096 x 768 pixels
Colour resolution in 16 million colours
80 product units per pack
4 different product types per pack
Up to 6 inspection features + label per product unit 
RGB Bayer filter – colour tones are calculated by means of filters in red, green and blue based on brightness