The CAPA Bundle station inspects folding boxes that have been combined into a bundle. An inspection of individual folding boxes is also possible.
SIGNUM Print area scan cameras are used for bundle inspection, inspecting 1D and 2D codes for readability and bundle completeness. The IMPERA line management system handles the smooth exchange of data.
Print inspection
The print is inspected by area scan cameras with integrated illumination. The method used for reading characters and codes was developed by scanware, is feature-based and optimised for high reading performance. Constant evaluation results independent of the number of character patterns taught in. All common codes such as GS1 are integrated.
Line connection and data exchange
Visualisation takes place on the scanware GUI. When integrated into an existing line, linking with upstream and downstream machines is of course possible.
The handling of read data can be done by the scanware data handler IMPERA. This is fully capable of serialisation and, in addition to serialisation and aggregation, also offers modules for importing and exporting data as well as rework.
■

Inspection Criteria and Objects
Inspection objects:
Bundle
Single folding boxes possible
Examination criteria:
Readability of 1D and 2D codes, e.g. Code 128 and DataMatrix.
Completeness of the bundles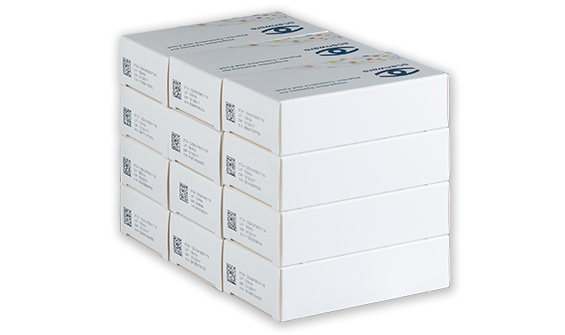 ■

Advantages of the Bundle Inspection
Different control positions possible (top, front and back)
High camera resolution for optimal results
Common user interface, comprehensible menu navigation and convenient data entry
Suitable for serialisation in conjunction with additional components
Aggregation possible
IMPERA Line Management system provides for efficient data exchange
Precise bundle handling
Modular, robust, mobile and ergonomic design
Compact add-on solution for easy integration into existing packaging lines
Would you like to learn more about scanware's solutions?
Then please use our contact form. We will get back to you as soon as possible.
■

Construction and Components of the Bundle Inspection
Camera
Depending on the size of the composites to be inspected, cameras with up to 29 megapixel resolution and integrated SMD-W LED illumination are used. The area scan camera can be installed by scanware in three different positions – top, front or rear. In the "front" and "rear" variants, the camera is installed in a DOM box in each case. In the "top" variant, the camera is mechanically adjustable in height. This allows the size of the recording area to be changed, which can be reduced or enlarged depending on the size of the bundle.
Illumination
The illumination used in the CAPA Bundle is integrated in the housing of the station and can be adjusted in 16 brightness levels. The illumination set for a format is stored in the format data record and is therefore reproducible.
Construction
CAPA Bundle is equipped with a conveyor belt (200 mm) to guide the bundles along the installed camera. A pneumatic ejection cylinder enables the bundle to be ejected when an error is detected. To ensure that the bundles are guided in the correct position, a guide rail has been installed. This is also used for tool-free format adjustment (adjustable according to bundle size).
Other Types / Components of Track & Trace