CAPA 360° Orbital is a 360° inspection system used for the inspection and reading of 2D and auxiliary codes on pharmaceutical, reclosable plastic bottles. The orbital inspection enables thanks to
Thanks to the 360° reading range, the orbital inspection system enables all-round quality assurance of the arbitrarily shaped object as well as a printing, serialisation and aggregation function for the printed codes.
CAPA 360° Orbital is used in the packaging process and is the solution for the use of auxiliary codes in the course of aggregation. The printing of the auxiliary codes and their reading and linking with the serial number on the bottle label are the prerequisites for the aggregation of the products in the fully automatic case packer.
■

Examination criteria and objects
Criteria:
2D codes: Printing and evaluation
UV auxiliary codes: Printing and reading
Bottle cap and label: Inspection of correct fit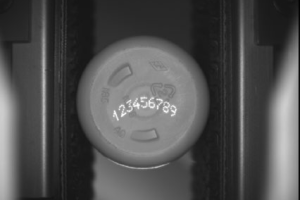 ■

Advantages of the 360° Orbital Station
A high-resolution 6x camera system of the latest technology generation
Fully serialisable
Aggregation in a can bundle packer or toploader possible
Integration of the Continuous Ink Jet (CIJ) printers commonly used on the market for auxiliary code printing
Maximum output of 120 bottles per minute
Equipped with W-LEDs and UV illumination
Optimum conveyor speed ensures minimum distance between bottles
Integrated bottle separation, which can also be used for downstream machines
Full integration of all switch and control cabinets
Equipped with a jam control at the infeed and discharge of the machine
Uniform user interface, comprehensible menu navigation and convenient data input
Smooth and scratch-free object transport for intact print quality of the codes
High-quality standard components enable efficient spare parts supply
With pleasure we arrange an appointment with you for a personal discussion.
■

All-round quality assurance software
Intuitive operation in the latest visualised software architecture QI
Data processing of serialised products in the machine control system
Standardised communication interface to level 2 (line manager)
Article-related modes for serialised, variable or fixed-printed products.
Format management for machine parameters
Individual customisation options for upstream and downstream to the machine
■

Hardware of the orbital station
Camera
With the use of the high-resolution 6x camera system, the CAPA 360 Orbital can realise a 360° reading range, whereby an object can be inspected from every side without having to be aligned.
Six state-of-the-art cameras with a resolution of 5 megapixels and integrated SMD-W LED illumination are used.
Illumination
The illumination used in the CAPA 360 Orbital all-round inspection system is integrated as a reflected light unit in the camera housing.
camera housing and is adjustable in 16 brightness levels. The illumination set for a format is stored in the format data record and is therefore reproducible. The use of UV illumination is possible for the inspection and reading of auxiliary codes.
Other Types / Components of Track & Trace