To ensure the counterfeit protection of pharmaceutical products, the folding boxes packed in shipping boxes are inspected and the data processed as part of Track & Trace.
At the CAPA Case control station, printed images of folding boxes, bundles and shipping boxes are inspected and compared with database entries. This can be integrated as a stand-alone construction for case inspection on your line or in case packers.
The processing and aggregation of serialised data is implemented by scanware's line manager IMPERA.
■

Inspection Criteria and Objects
Inspection objects:
Folding boxes
Bundles
Packaging boxes
Examination criteria:
Readability of 1D and 2D codes such as Code 128, DataMatrix and Crypto Code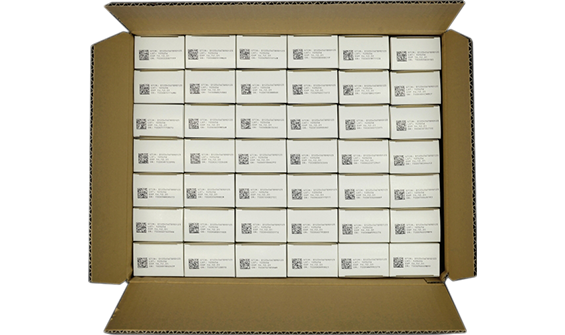 ■

Advantages of Case Inspection
High camera resolution for optimal results
Automatic adjustment of camera and light module when changing layers
Adjustable positioning edge to hold the shipping box in place
Implementation of all common codings
High-performance print inspection
High-quality standard components and thus efficient spare parts supply
Uniform user interface, comprehensible menu navigation and convenient data entry
Can be retrofitted if your requirements or regulations such as EU Directive 2011/62/EU change
Robust construction, mobile and ergonomic, and easy to clean
Excellent power transmission through the use of planetary gears and wear-free drives through brushless motors
Fully serialisable
Aggregation possible
■

Functionalities of the Case Inspection
Print inspection
The print is inspected by area scan cameras with integrated illumination. The method used for reading characters and codes was developed by scanware, is feature-based and optimised for high reading performance. Constant evaluation results independent of the number of character patterns taught in. All common codes such as GS1 and crypto-code are integrated.
Line connection and data exchange
Visualisation takes place on the scanware GUI. When integrated into an existing line, linking with upstream and downstream machines is of course possible.
Camera
Depending on the size of the composites to be inspected, cameras with up to 29 megapixel resolution and integrated SMD-W LED illumination are used. For shipping boxes with several layers of folding boxes, the height of the camera carrier is adjusted with a servo motor.
Illumination
The illumination used in CAPA Case is integrated in the camera housing as a reflected-light unit. It is adjustable in 16 brightness levels. The illumination set for a format is stored in the format data record and is therefore reproducible.
Construction
The table on which the bundles are placed is at a fixed working height.
In order to be able to completely capture the printed images in the outer carton, the feed edge enables the carton to be optimally and centrally aligned under the camera.
The station can also be used as a flexible add-on solution in bundlers and case packers.
Would you like to learn more about scanware's solutions?
Then please use our contact form. We will get back to you as soon as possible.
Other Types / Components of Track & Trace