High Resolution Inspection
The high-resolution inspection system SPECTRA HR is used for quality control in the pharmaceutical sector. By using 3CMOS cameras, it offers outstanding colour separation performance, allowing products with difficult colour and contrast conditions to be inspected. In combination with the largest software package, it enables unique inspection parameters and functions. Also the inspection of products products with minimal differences in colour and shape in the same blister at high speed. The all-rounder for every challenge.
■

Inspection Criteria and Objects
Inspection objects:
Tablets
Oblongs
Dragees
Hard and soft gelatine capsules
Medical strips
Sealed products
Special forms
Dialpack
etc.
Examination criteria:
Contaminants
Colour
Presence
Size
Shape
Position
Circumference
Fragments
Overfilling
Surface defects
Serial defects
Print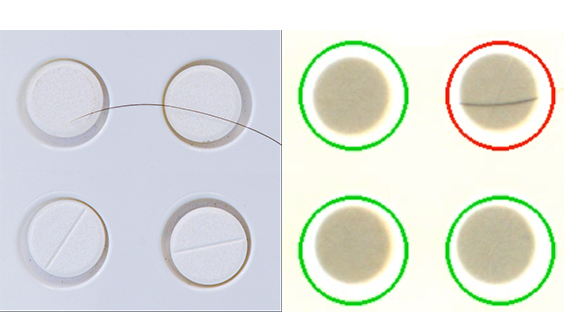 ■

Advantages of High-Resolution Blister Inspection
With the high-resolution blister inspection, all blister geometries and product-film combinations can be detected and post-seal applications implemented. All parameters integrated in the system can be applied simultaneously. The use of multi-camera systems allows the inspection of different products and shapes in the same blister.  The use of the real-time operating system QNX® enables the fastest signal processing and high reliability. 
■

Special Applications of SPECTRA HR
■

Software Facts of the High-Resolution Inspection
Outstanding software features, such as ꞉ filling statistics and production documentation, configurable machine stops and diagnostics for colours, pocket, blister and defect images, comprehensive audit trail.
The SPECTRA HR software is equipped with improved algorithms for shape recognition. By using several cameras, different products in the same blister as well as different shapes with the smallest differences in shape can be reliably detected.
The system's colour separation performance even detects colour differences that can hardly be seen with the naked eye. Different colours in the same blister are thus reliably kept apart. No other system offers such accuracy and reliability.
Special algorithms:
X-Y measurement, with which, for example, the different positions of the product are evaluated for plug-in capsules with heterogeneous filling. 
Detection of protruding objects – The detection of protruding objects reduces ejection.
Protruding objects are identified as correct instead of being ejected as too small.
Automatic mask tracking compensates for trigger timing in intermittent machines, which depends on belt speed and other technical factors.
■

Technical Data - Hardware
Evaluation unit
19 inch construction, 42 TE
256 GB SSD hard disk, optionally 128 GB
I/O system DIO8/16/32/48/64 (standard) or
TCP/IP, EtherCAT, integrated PLC (extended)
scanware-developed frame grabber
scanware-developed image multiplexer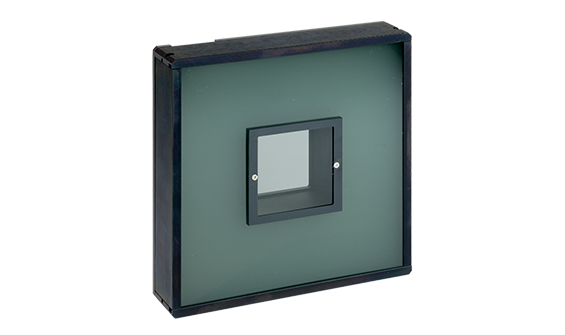 Illumination
Designed by scanware with up to 3000 LEDs per standardised unit
Use of Nichia SMD-W LED
Top light, back light, side light or or diffused illumination – freely combinable
Homogeneous, reproducible and adjustable in 2 × 16 brightness levels for optimal colour measurement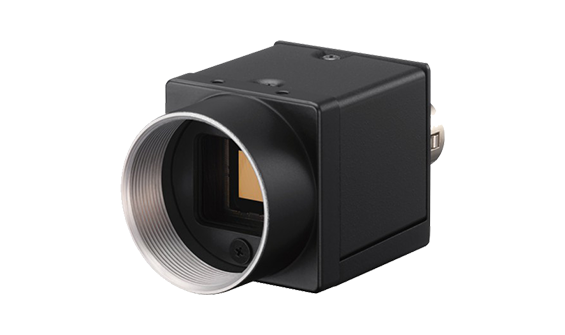 Camera
3CMOS colour sensor, JAI
Camera Link interface for low-interference data exchange of large amounts of data and thus longer cable lengths than USB and FireWire
Evaluation speed: up to 3,300 images per minute
Camera resolution 3× 4,096 × 768 pixels / 3× 3.2 MPx (when using the Japan Quality, where 4 cameras are used)
Colour resolution in 16 million colour shades
RGB Bayer filter – colour tones are calculated by means of filters in red, green and blue based on brightness
Powerful, non-condensing unit ideal for highest performance in continuous operation
Built-in correction of colour errors and blur, further enhanced by scanware software algorithms
Would you like to learn more about scanware's solutions?
Then please use our contact form. We will get back to you as soon as possible.