The powerful greyscale system SIGNUM Print can be used for the inspection of complete print images (OCR/OCV) on a wide variety of packaging.
This complete solution offers producers or packagers of a wide variety of products in the pharmaceutical, cosmetics and food industries the highest recognition performance in the ongoing packaging process at high speed. The recognition performance, the range of functions and the ease of use are in no way inferior to the outstanding feature-based character recognition.
■

Inspection Criteria and Objects
Fields of application:
Small field applications, such as blister identification
In-line single blister printing, such as late stage customisation
Full-area foil printing
Pouch machines
Examination criteria of the prints:
Presence
Completeness
Legibility
Quality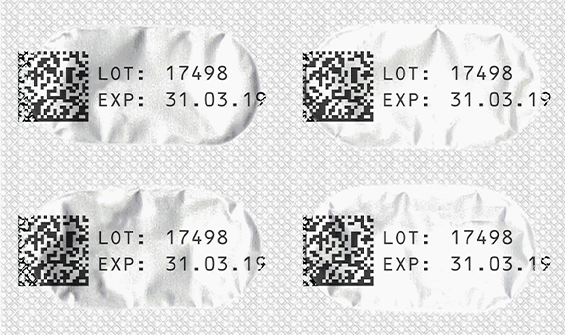 Inspected are prints in the form of letters, numbers and graphics – such as:
Company information
Product labelling
Logos, pictograms or symbols
1D and 2D codes
Would you like to learn more about scanware's solutions?
Then please use our contact form. We will get back to you as soon as possible.
■

Advantages of Print Inspection
The print inspection offers fast evaluation through intelligent character library. The OCV/OCR camera system is fully format-free. The method used by scanware is feature-based. However, scanware does not use every single character read as a comparison, as this would either be at the expense of evaluation time or accuracy. Instead, SIGNUM Print calculates a virtual character from all characters read and recognised as correct, which represents the average of all variants read. Thus, only one comparison needs to be made for each character to inspect its correctness and readability.
Due to the high computing power, up to 5,000 objects can be inspected. The reading windows can have different orientations.
Thanks to automatic mask tracking, deviations in the guidance of the object to be checked are compensated. Up to six cameras ensure a full-surface inspection. The capacity can be expanded at any time.
■

Versatile Application Possibilities
Print on products

SIGNUM Print plain text inspection can also be used for prints on products such as tablets and insertable capsules. The automatic detection of rotational position is of particular importance here. This can also be done with simultaneous evaluation of other product criteria such as colour and size.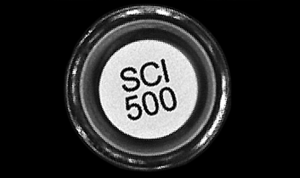 Foil printing
The combination of several cameras and the resulting high resolution means that complete foil lanes can also be inspected, for example on stick pack machines.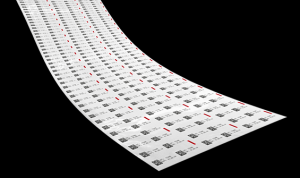 ■

Software Facts of Print Inspection
The extensive software functions include:
Consecutive error detection
Error image memory
Test run function for set-up operation
Format test for diagnosis and optimisation of the evaluation results
Production statistics and batch-related order documentation
The teach-in run is configurable and therefore particularly fast. It is preset which markings are to be inspected, so that only these subsequently have to be taught.
In OCV mode, the system recognises the positions of the characters automatically.
The character library does not grow continuously, but the evaluation is always done from an intersection of feature parameters of the read variants. As a result, the evaluation time is very short.
Copy function for fast teach-in when an evaluation type, for example a data matrix, is inspected in several places. The user enters the number of copies, SIGNUM HR finds them in the reading area. Manual marking of the same evaluation types is no longer necessary.
■

Technical Data - Hardware
Evaluation unit
42 HP, 3.5 RU
240 GB SSD hard disk
scanware-developed frame grabber
Camera
1CMOS or 3CMOS
Camera Link interface for low-interference data exchange of large data volumes and therefore longer cable lengths than USB and FireWire
Evaluation speed: 600 readings/minute at 224 characters
Camera resolution: 5-31 megapixels