■

SIGNUM Codes (1 DC / 2 DC)
SIGNUM Codes is a system for the inspection of codes that is used, among other things, on packaging machines in the pharmaceutical industry, but also in the food and cosmetic industries.
The intelligent cameras evaluate prints of 1D and 2D codes with exceptionally high reading performance. The optionally available control unit includes a PLC to enable retrofitting to an existing system.
The comprehensive software features enable producers and packagers to optimally evaluate even difficult optical conditions. In addition, scanware offers analysis tools that enable error analysis and thus the reduction of reject.
■

Inspection Criteria and Objects
Testable objects:
Labels
Package inserts
Folding boxes
Blister cover foils
Tubes
etc.
1D-Codes:
EAN 8, EAN 13
Code 32, Code 39, Code 128
Interleaved 2/5
DatenBar
Pharmacode
2D-Codes: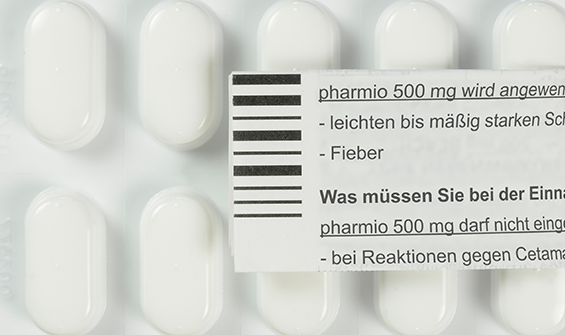 ■

Advantages of the 2D Code Readers
Available in various designs for simple and optimal system integration. The simple, user-oriented operation and the guided learning run make the system particularly user-friendly. Since only relevant areas are read, very high reading speeds of 150 barcodes and 80 DataMatrix codes per second are possible.
Error analysis enables improvements to be made to the codes, and all common codes are already incorporated. The evaluation is independent of the rotational position and transport direction of the test item and can work reliably even at high transport speeds of up to 6 m/s.
Would you like to learn more about scanware's solutions?
Then please use our contact form. We will get back to you as soon as possible.
■

Software Facts of 2D Code Inspection
The software offers the operator the possibility to implement the evaluation and improve productivity even without prior knowledge of coding.
Standard criteria are stored for all types of codes and can be adapted as required. The quiet zone that must be present around a code so that it can be read reliably is automatically included and visualised by the software. The evaluation of faulty codes precisely identifies their deviation. This means that errors can be corrected more quickly and further ejections can be avoided.
The reading results in the running machine are also visualised so that errors that occur in the interval are detected.
■

Technical Data - Hardware
Evaluation unit
42 HP, 3.5 RU
2 GB SSD hard disk
scanware-developed frame grabber
Code reader
Various sensor heads can be used. Due to the compact design, the remote sensor head, available with front or side optics, is often installed. The associated control unit can be flexibly mounted at any position in the system.
Sensor CCD matrix (1,034 × 779 pixels)
Max. Transport speed 6m/s
Reading distance 73 mm
Reading field 54 mm × 72 mm
Resolution ≥ 0.35 mm (14 mil)
Rotation angle 360° (omnidirectional), rotation and tilt angle up to ± 30°