The SPECTRA Bulk QI Inspection system is developed for the detection of wrong colour, broken products and foreign matter in pharmaceutical products packaged in bulk. For this application, the product inspections SPECTRA Colour or SPECTRA High Resolution can be used, either as single or multiple camera solution. This solution can operate on all common slat counters. The quality inspection is continuous right through to the rejection station.
For this application, the new software architecture QI has been implemented which enables extremely high inspection speeds.
■

Inspection Criteria and Objects
Inspection objects:
Tablets
Oblongs
Sugar-coated tablets

Hard and soft gelatine capsules
Examination criteria:
Colour
Size
Fragments
Foreign matter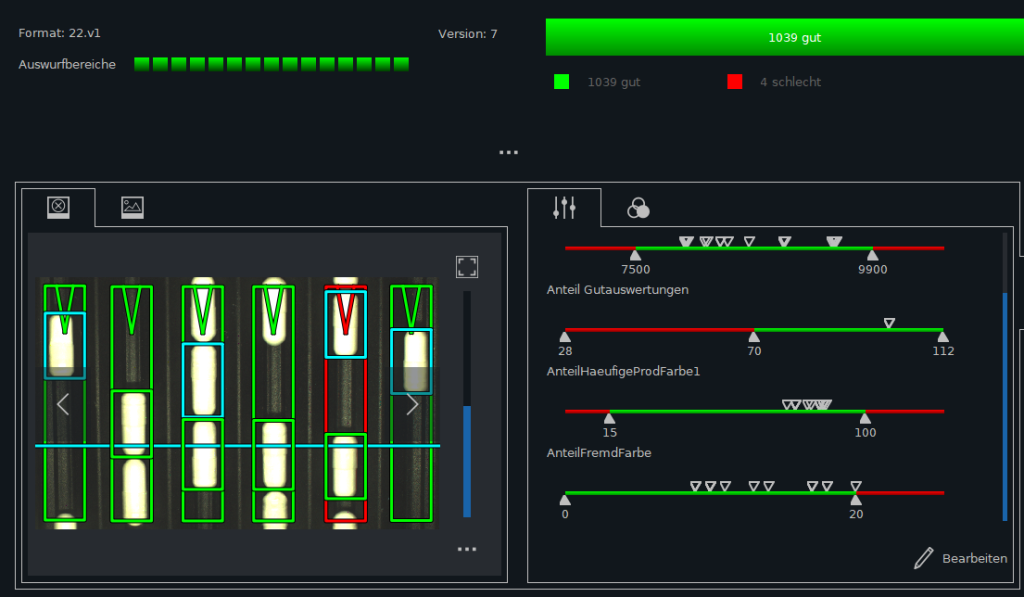 ■

Advantages of the Bulk Application
The bulk application is carried out with a high-speed inspection of more than 1 million products per hour and performs detailed defect detection with a multi-camera solution. The high-resolution SPECTRA Bulk QI can be used on all common tablet counting machines (slat counters) and on all common counting machines (ETC) with vibration feed. The use on large machine widths can be inspected.
SPECTRA Bulk QI supports the following production modes: ejection of individual products, ejection of bottles after filling, and manual removal of bad products.
Up to 48 vibration channels can be inspected. With this application, detection of foreign products, fragments and foreign bodies can be accomplished.  In addition, this solution offers position-accurate evaluation for individual ejections.
■

Software Facts of SPECTRA Bulk QI
This inspection task guarantees a thorough inspection of every single product within a bulk packaging process. Every single unit is captured multiple times during the process. The position of individual objects can be tracked from one captured image to the next. The evaluation result of the previous image is transmitted to the current image, so the overall evaluation result contains the information of the previous images. The good and bad results are evaluated by lane, enabling individual ejection.
Depending on machine width, the inspection criteria and transport speed, cameras with appropriate resolutions can be used.
All algorithms are tailored to high-speed inspection.
The following functions all occur within a single machine stroke: position analysis of individual products, evaluation according to product parameters, location tracking in consecutive shots as well as overall evaluation result occur and signalling to the machine.
The selection of relevant inspection criteria can be confi gured and can be set for each project. The following production modes are supported: ejection of individual products, ejection of bottles after filling, and manual removal of bad products.
Would you like to learn more about scanware's solutions?
Then please use our contact form. We will get back to you as soon as possible.
■

Other Possible Applications
Bulk inspection can be used on different types of machines:
Vibratory feeder
Bulk inspection can be installed on all common models of tablet counting machines with vibratory feeders. The combination of several cameras enables the monitoring of large machine widths and thus provides the necessary resolution.
Drum filling 
SPECTRA can also be used on drum fillers without any problems. Here, the system gives position-accurate results for each individual product, making it possible to reject defective products individually.
■

Double Bulk Inspection - Detection of the smallest Colour Differences
The hardware was customised for the synchronous inspection of bulk goods on two identical, parallel softpack tablet counting machines that are operated via a common terminal. 
The dimensions and weight of the superstructure are handled by mounting a bracket including a lift, which is equipped with gas springs and moves the DOM boxes by means of compressed air.